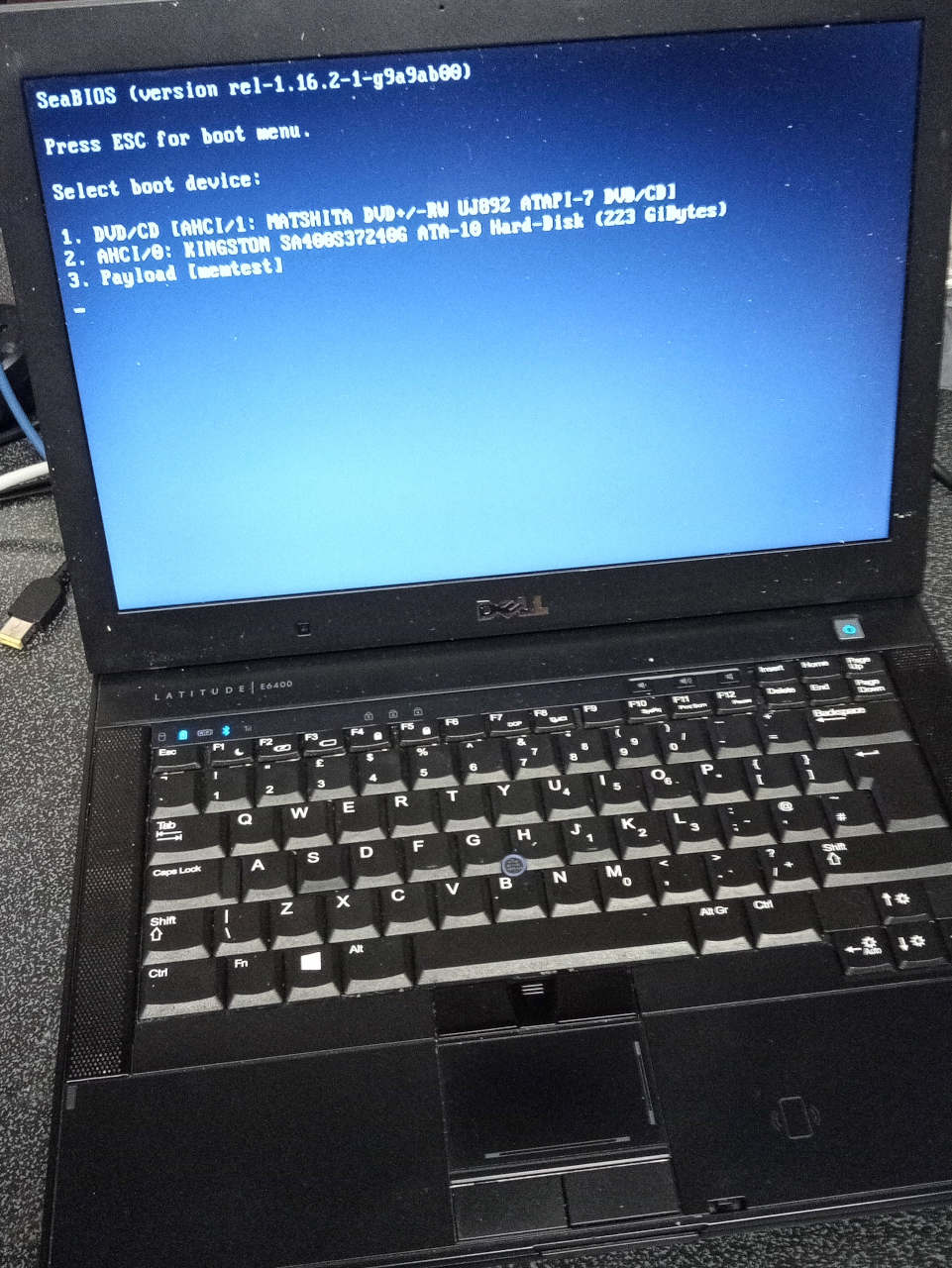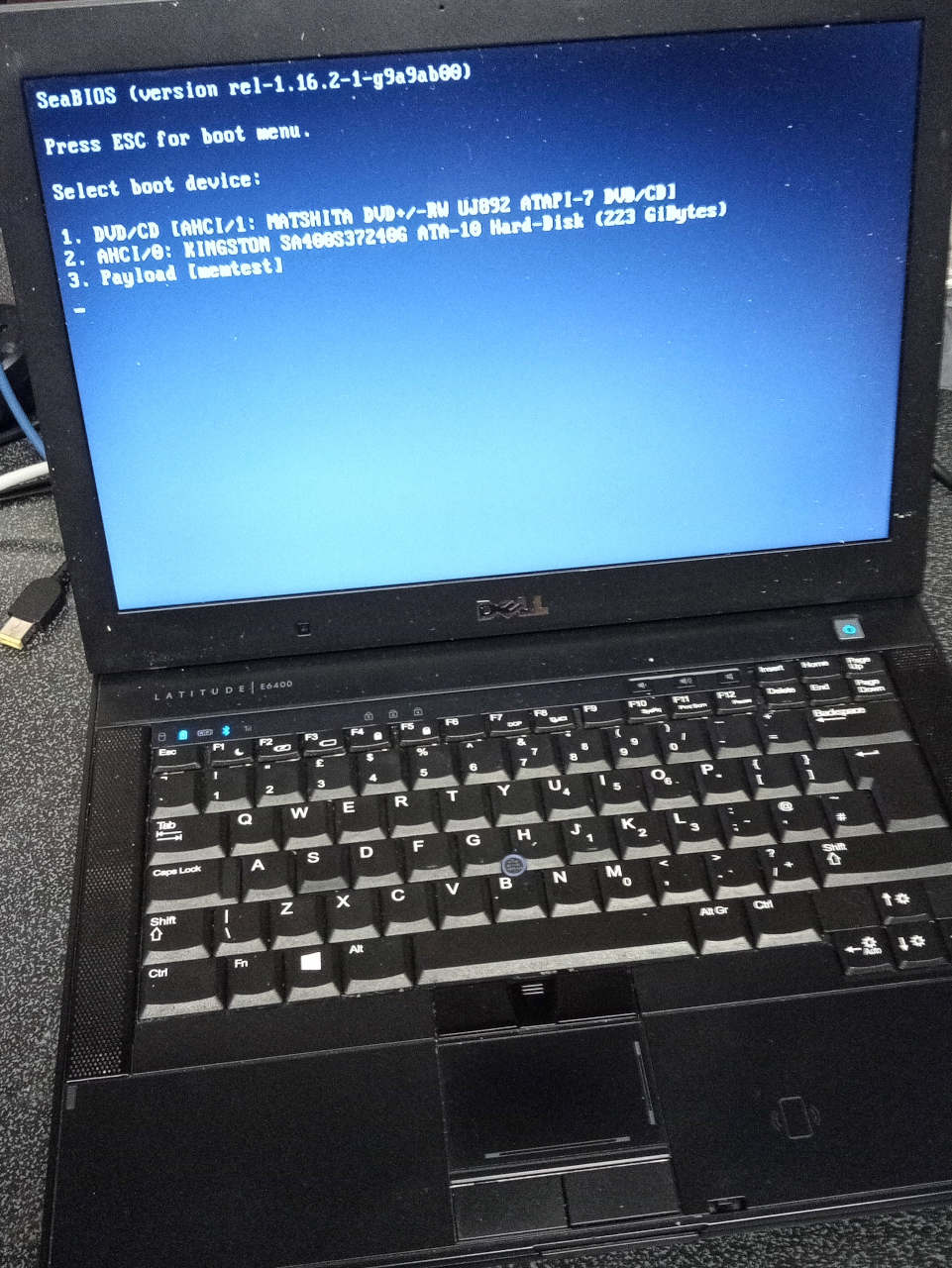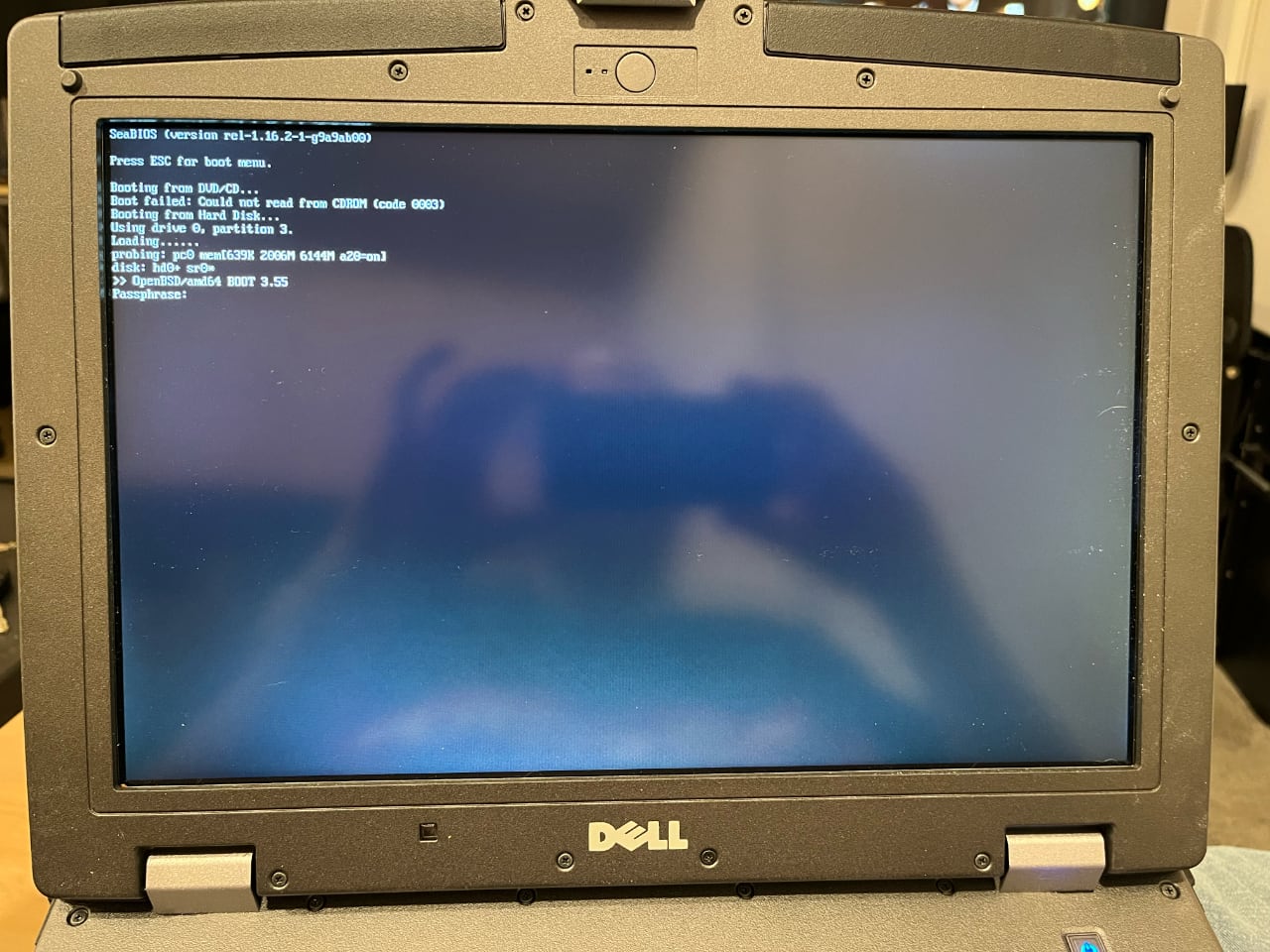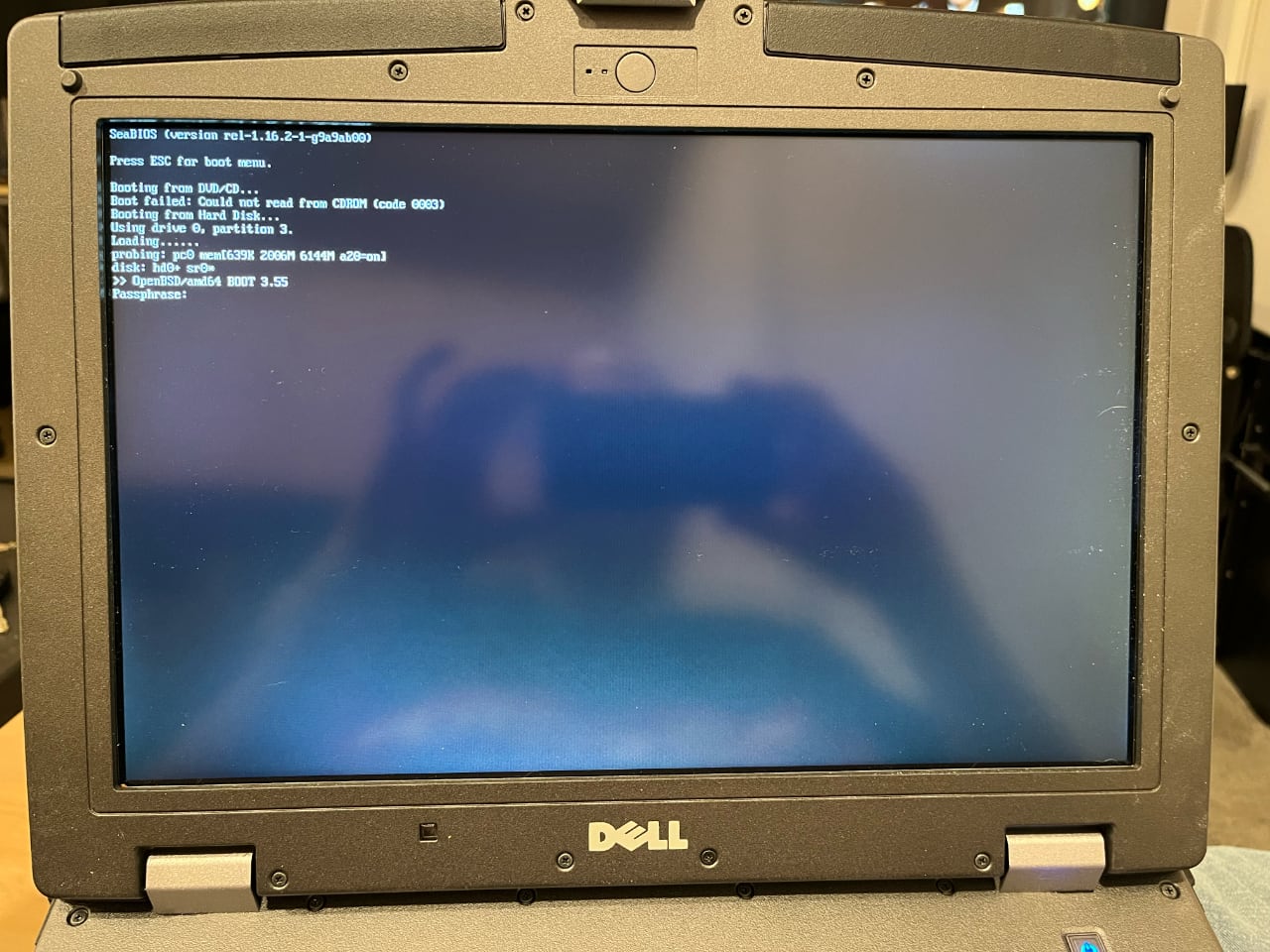 | | |
| --- | --- |
| Manufacturer | Dell |
| Name | Latitude E6400 |
| Variants | E6400, E6400 XFR and E6400 ATG are supported |
| Released | 2009 |
| Chipset | Intel Cantiga GM45(Intel GPU)/PM45(Nvidia GPU) |
| CPU | Intel Core 2 Duo (Penryn family). |
| Graphics | Intel GMA 4500MHD (and NVidia Quadro NVS 160M |
| on some models) | |
| Display | 1280x800/1440x900 TFT |
| Memory | 2 or 4GB (Upgradable to 8GB) |
| Architecture | x86_64 |
| EC | SMSC MEC5035 with proprietary firmware |
| Original boot firmware | Dell BIOS |
| Intel ME/AMD PSP | Present. Can be completely disabled. |
| Flash chip | SOIC-8 4MiB or 2MiB+4MiB |
W+: Works; 
N: Doesn't work; 
U: Untested; 
P+: Partially works; 
| | |
| --- | --- |
| Internal flashing with original boot firmware | W+ |
| Display (if Intel GPU) | W+ |
| Audio | W+ |
| RAM Init | W+ |
| External output | W+ |
| Display brightness | P+ |
| | |
| --- | --- |
| GRUB | Works |
| SeaBIOS | Works |
| SeaBIOS with GRUB | Works |
Introduction
Known supported variants: E6400, E6400 XFR and E6400 ATG. Only the Intel graphics models are supported; the ones with Nvidia graphics are not compatible with Canoeboot.
To install Canoeboot, see: E6400 installation instructions
ROM images for Dell Latitude E6400 are available for flashing in the Canoeboot release 20230423 onwards, or you can compile a ROM image for installation via cbmk, see: build instructions
There are two possible flash chip sizes for the E6400: 4MiB (32Mbit) or 2+4MiB (16Mbit+32MBit). Canoeboot presently supports the 4MiB version, and provides 8MiB images for those who upgrade their flash to 8MiB or 16MiB. There appears to be several possible mainboard PCBs for the E6400, which we believe mostly affects the GPU configuration and the number of available SPI flash footprints:
LA-3801P: iGPU, possibly dual SPI (however only one may be populated)
LA-3803P: dGPU, dual SPI (however only one may be populated)
LA-3805P: iGPU, single SPI flash (4MiB)
LA-3806P: dGPU, unknown SPI configuration (likely at least 4MiB)
These PCB numbers can be found either under the black plastic in the RAM slots on the bottom (CPU side) of the board, the top left corner near the VGA port (top side, under the keyboard and palmrest), or near the CPU backplate (only requires removal of the keyboard).
We believe that all boards will have at least a single 4MiB flash chip, regardless of the number of SPI footprints. This is likely the most common configuration on most available systems. The 2+4MiB configuration likely would have only been used on systems with full Intel ME firmware with AMT functionality, though this configuration has not yet been encountered.
Most people will want to use the 4MiB images.
Intel GPU: 100% Free Software is possible
This is a GM45/PM45 platform, so completely libre initialisation in coreboot is possible, provided by default in Canoeboot.
Management Engine (ME) firmware removed
This port in Canoeboot made use of ich9gen from ich9utils, which you can read about in the ich9utils manual - this creates a no-ME setup. The Intel Management Engine firmware (ME) is completely removed, and the ME disabled, just like on ThinkPad X200, T400 and so on.
The E6400 laptops may come with the ME (and sometimes AMT in addition) before flashing canoeboot. Dell also sold configurations with the ME completely disabled, identifiable by a yellow sticker reading "3 ME Disabled" inside the bottom panel. This config sets the MeDisable bit in the IFD and sets the ME region almost entirely to 1's, with the occasional 32-bit value (likely not executable). Canoeboot disables and removes it by using a modified descriptor: see ../install/ich9utils.html (contains notes, plus instructions)
Markdown file for this page: https://canoeboot.org/docs/hardware/e6400.md
Subscribe to RSS for this site
This HTML page was generated by the untitled static site generator.